Grace D. Amianti
The Jakarta Post
The government's efforts to improve fiscal management has helped Indonesia's economy to grow resiliently amid looming global risks, but spending improvement is still needed to support the country's economy in the long run, the World Bank says.
In its October edition of the "Indonesia Economic Quarterly", the Bank states that such fiscal improvement may yield higher economic growth of 5.1 percent this year from a six-year low level of 4.79 percent last year.
Adjustments in government expenditures and the ongoing tax amnesty have eased fiscal risks due to higher realization of revenue from amnesty penalties compared to previous estimates, the report highlights.
The government has earned Rp 97.8 trillion (US$7.5 billion) in revenues from tax amnesty penalties, with Rp 3.8 quadrillion in assets declared in the program, which is running from June 2016 to March 2017, tax authority data show.
The additional revenue from the tax amnesty is expected to raise capital spending and hence create a positive impact on growth, just as Finance Minister Sri Mulyani Indrawati, a former World Bank managing director, in August slashed Rp 137 trillion state spending off the 2016 state budget due to a Rp 219 trillion tax revenue shortfall.
"Improved fiscal management, sounder public policy and structural reforms, including timely responses on food prices, are yielding positive outcomes. Risks have declined and some indicators improved," World Bank country director for Indonesia Rodrigo Chaves said during the report launch on Tuesday.
World Bank Indonesia lead economist Ndiame Diop said benign inflation and a low benchmark interest rate trend also bring a positive vibe for investors and help policy makers cope with short-term pressures and push for a long-term reform agenda.
However, the World Bank warns that Southeast Asia's largest economy will continue to face external risks such as weaker than expected global growth and volatility in global financial markets.
In order to maintain longer resiliency, Diop said the government should continuously reform public spending with a more effective budget expenditure, which would eventually help reduce poverty.
Based on the Bank's assessment, budget adjustment has improved in the past few years and heavily influenced poverty reduction, which is shown through the 0.4 percentage points decline in the country's poverty rate in the first quarter — the biggest year-on-year (yoy) decline in the last three years.
"Policies that have contributed to the decline include efforts to stabilize rice prices and the expansion of social assistance programs," the report stated.
Renowned economist Raden Pardede also lauded the government's efforts in fiscal reform, particularly in taxation including the tax amnesty, but it would take at least two years to be fruitful in helping the country's fiscal side amid low revenues from exports and non-taxes.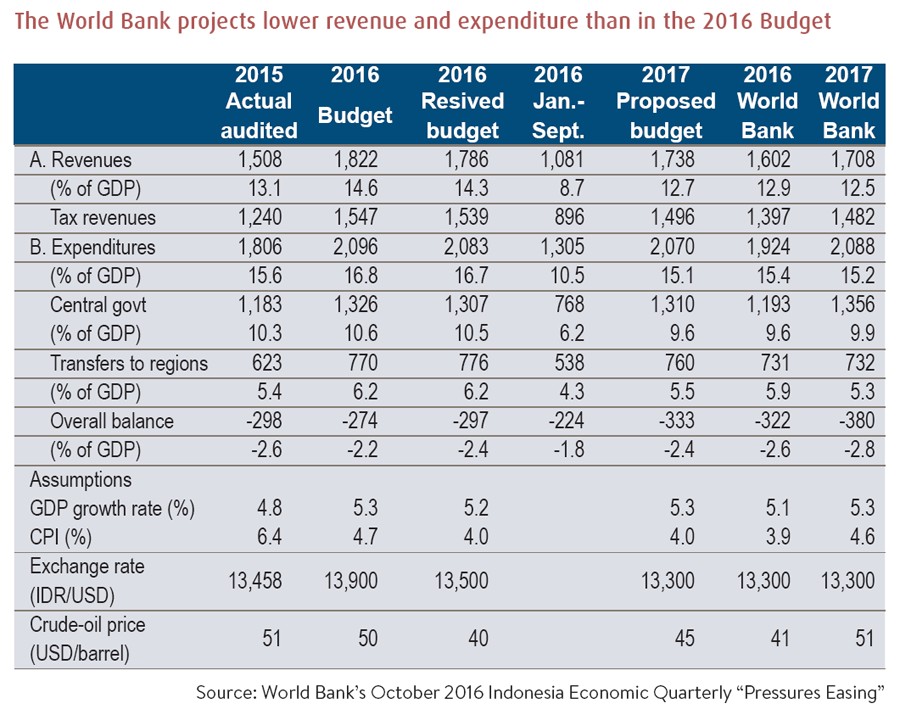 Special economic policy advisor to the president Denni P. Purbasari said President Joko "Jokowi" Widodo had requested budget reallocations for education, health and agriculture, while also putting at the forefront tax reforms as an important key to support growth, with the tax amnesty serving as a first step.