Grace D. Amianti and Hasyim Widhiarto
The Jakarta Post
Indonesia is among the top-five most improved nations worldwide with regard to ease of doing business, but it is no time for complacency as President Joko "Jokowi" Widodo's ambitious target remains unmet.
The country's ranking on the ease-of-doing-business index in the World Bank's flagship annual report has jumped 15 places to 91st position, one of the best improvements among 190 countries in the survey, although Jokowi is looking for the country to achieve 40th position.
"The economies showing the most notable improvement in performance on the "Doing Business" indicators in 2015/2016 were Brunei Darussalam, Kazakhstan, Kenya, Belarus and Indonesia," reads the report, which also names New Zealand as the easiest country in which to do business, taking over the top spot from Singapore for the first time in a decade.
The significant jump in Indonesia's ranking is based on improvements made in starting a business, getting electricity, registering property, getting credit, paying taxes, trading across borders and enforcing contracts.
Jokowi in April issued the 12th economic stimulus package that specifically targeted a significant improvement in the World Bank's index — regarded as a parameter for investors around the world – by scrapping many procedures and reducing both the time and cost involved in starting a business.
In total, the deregulation package has seen 94 procedures slashed by almost half to 49. The time spent on procedures dropped from 1,566 days to 132 days. Costs have also dropped from Rp 92.8 million (US$7,036.10) to Rp 72.7 million, among other reforms.
World Bank Indonesia country director Rodrigo Chaves said the government had done a lot to enhance the quality of the business environment for the private sector, particularly in the last three years. For one, it now takes 58 days for a business entity to connect to the power grid, compared with 79 days previously.
Still, many areas remain wide open for improvement to achieve Jokowi's ambitious target of securing the 40th place, including abolishing illegal levies and regulatory overkill by regional governments, as well as digitalization of the bureaucracy, economists say.
"Governments in other countries have utilized comprehensive IT systems to expedite processes, rather than relying on manual procedures," Bank Central Asia (BCA) chief economist David Sumual said, highlighting the pressing need for a more efficient bureaucracy to reduce costs for businesses.
He lauded the government's recent efforts to fight illegal levies and implementing "e-logistics", which is the digitalization of the logistics process that could help streamline bureaucracy.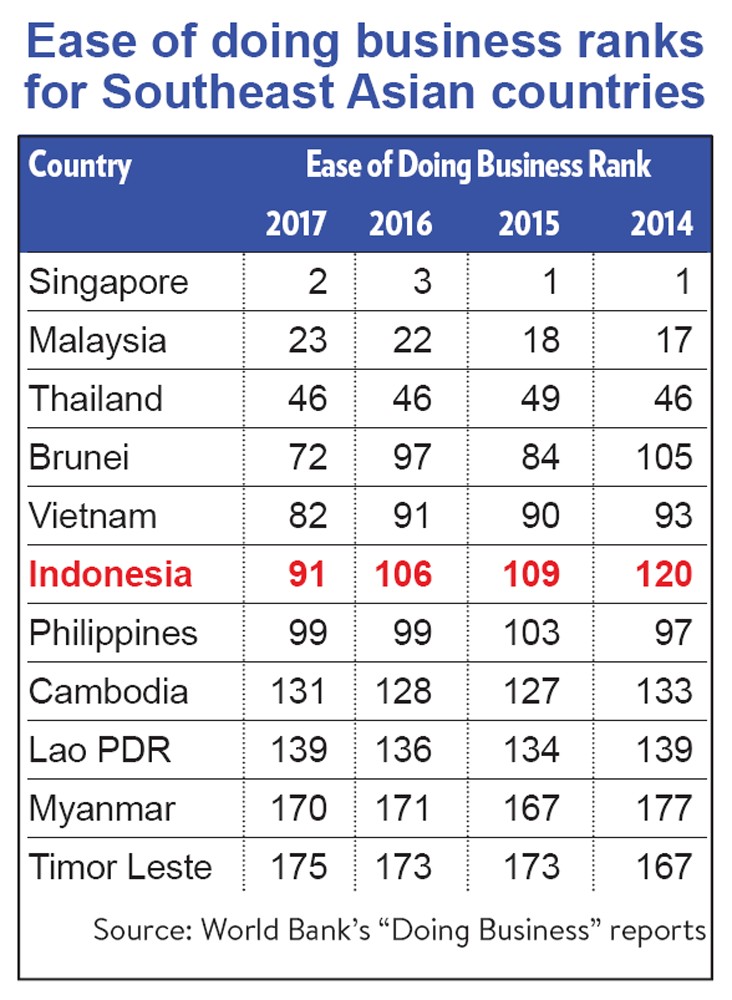 (-/-)
Indonesian Institute of Sciences (LIPI) economist Latif Adam said his group had found in a 2010 study that there were many illegal levies charged for freight transportation on a route between Jakarta and Bandung, an example of a high cost of doing business.
Another example of high logistics costs is the long dwell time in ports, particularly Jakarta's Tanjung
Priok Port, which has almost reached saturation level, said Gadjah Mada University economist Tony Prasetiantono.
The government's efforts to boost the ease-of-doing-business ranking is part of a greater plan to make Indonesia more competitive in the international business community, as Southeast Asia's largest economy grew the slowest in six years in 2015.
Direct investment is among the top growth contributors for the economy even though it is expected to slow to 12 to 14 percent this year, compared with 19 percent in 2015, according to Investment Coordinating Board (BKPM) head Thomas Lembong.
The methods used to create the index have faced criticism, however. An independent panel appointed by World Bank president Jim Yong Kim found it used a narrow source of information and had the potential to be misinterpreted, according to a 2013 report. The ranking should not be used to apply a one-size-fits-all template for development, the panel found, as reported by Bloomberg.
"God willing, this will create confidence and instill greater faith" among businesses, Finance Minister Sri Mulyani Indrawati said with reference to Indonesia's improved performance.